FAQ's - Frequently Asked Questions
FAQ's – Cloud 9 Guide services is a spiritual intuitive guide and wellness center designed to help the lives of as many people as possible. Our service options are many and our psychic wellness guides are compassionate, experienced, and highly skilled in what they do.
Cloud 9 Guide by Xyla Divine is offering a unique holistic approach through spiritual intuitive guidance, angel card readings, reiki practices, healing energy work with a lifetime full of experience to reveal the path that is best for you, your next step to help improve your life, health, and wealth.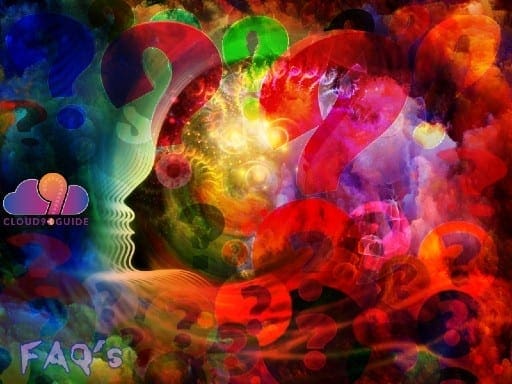 You are here, in good hands. – follow your gut instinct. Here are some FAQ's (Frequently Asked Questions) about our intuitive services;
Q: - Why should I use Cloud 9 Guide?
FAQ's – Cloud 9 Guide is the home base for intuitive services all things metaphysical and beyond. Our holistic approach and expertise in healthy living, healing work, and intuitive services all work together to create a comprehensive collection of life-changing services designed to make your life better.
No matter what areas of your life require improvement, or which answers you happen to be seeking, there is a very high likelihood that you will find what you need here with us.
Another reason to use Cloud 9 Guide is that we do not charge any hidden fees for our services, and everything that we do is backed by a guarantee that is seeded in our desire to bring you the exact service that you came to us for. We are transparent, genuine, and committed to you every step of the way.
Q: – Why do you charge for a gift from God?
A: We all have gifts from God. In fact, you could say that everything we do and experience is a gift from God. The compensation that we ask of our clients, not for the gifts we have received to make our work possible, but for the time and energy, we spend bringing the benefits of those gifts to you.
Q: – What is a Psychic? What is a Medium? What is a Clairvoyant?
A: – There is a good reason why you will see the terms psychic, medium, and clairvoyant in the same circles. Each of the different practices utilizes an ability to see beyond the physical planes that we are rooted in. Some call it spiritual energy while others refer to it as the ebb and flow of the energies moving through time and space.
No matter what you call it, there is a connection between our world and those beyond anything we can touch or see that can provide us with valuable insight, answers, and healing.
A psychic is a person who utilizes psychic energy to perform various tasks. A psychic, or intuitive as I like to refer to myself as, uses an in-built skill to hear and interpret intuitive wisdom. The universe has many answers to our questions and the more we learn to listen to and understand those lessons the more successful we are in life. A psychic, therefore, is someone who has spent an immense amount of time nurturing an innate skill that every human being has.
A medium is a person who uses spiritual or psychic energy to connect to beings beyond our present plane of existence.
A Clairvoyant is a person who can see things that others cannot – usually assisted by their own intuitive process or a connection to a higher, spiritual source.
Q: – Why should I get a psychic reading?
A: – Your psychic is an intuitive who can see aspects of your life with clarity. That clarity helps you discover areas of your life that you may have missed, such as hidden talents and skills, blockages, negative energies, relationship dynamics, and much more. An intuitive can also guide you to a place where you are empowered to embark on a life-long process of self-discovery and growth.
Q: – Must I be present to receive a psychic reading?
A: – No. You do not need to be present to receive a psychic reading. Psychic readings and other intuitive services rely on accessing energies that transcend time and place. Therefore, so long as I have the necessary information from you, I can conduct a psychic reading of any kind from any place in the world through video call chat over the phone.
Q: – How can you give me a reading over the phone or the internet?
A: – No matter what type of service you have come to us for, be it an angelic reading, tarot reading, psychic reading, or even a healing or guidance session, it is certainly possible for us to provide that service over distance through video call chat over the phone. Most of our services here at Cloud 9 Guide are based in energies that are not limited by space and time. For that reason, you can get the same quality of service in the convenience of your own home that you would expect in a face-to-face session.
Q: – What do I need to do to get prepared for a psychic reading?

A: – Depending on the psychic reading in question, you may want to prepare questions before a session. Oftentimes, however, there is very little that is required of you. Simply come to the session with an open mind and heart. There is not much for you to do in preparation for your reading.
What you will need to do will depend on the type of reading you are going to have but relaxing before a session is always high on the list. Also, you should mentally prepare yourself with any questions or expectations you may have. The clearer your purpose is in your mind before you begin, the easier it is to achieve your goals.
Q: – How can I get the best out of my psychic reading?
A: – The most effective sessions happen when the recipient has done some introspective work, identifying areas of their life that require additional care. The better a person understands their needs, the more efficient they can have those needs met.
Q: – What are some of the benefits of having a psychic reading?
A: – There are many benefits when it comes to getting a psychic reading done. For one thing, a reading carried out by a professional intuitive can shine a light on various areas of your life which enables you to take direct action for the better. A psychic reading also brings you answers to difficult questions and provides you with insight as to which directions and decisions should be taken.
Q: – What questions do people usually ask a psychic?
A: – You can ask your psychic any question that you like. Future, past, and present… Some of the most common questions that we receive are related to relationships, work, and personal issues. People often want to know if their relationship is going in the right direction or if they will meet someone of importance soon, among many other questions. Work-related questions are often focused around raises, promotions, career change, and how best to succeed in certain aspects of work life. Personal questions are commonly related to areas of personal growth, success, health, and change.
Q: – How do I find a good psychic medium?
A: – The best way to find a good psychic medium is to comb through testimonials. Be aware, though, that there are many so-called psychic mediums out there who have paid contract writers copious amounts of money to write fictitious reviews for their business. Read reviews and testimonials found in a variety of places to see how they match up. Apart from that, you can schedule a free consultation with a psychic medium that you feel drawn to. Through that meeting, be aware of how your own energies (inexplicable feelings) react to that person. You should feel that a psychic connection is forming between you and the medium, even after just a few minutes together.   
Q: – What can I expect in a psychic reading?
A: – A psychic reading should provide you with the answers and insight that you are looking for. Psychic work is not an exact science and there are many variables that can affect reading, so each person's experience can be different. In general, though, you should expect to have your questions answered and a new direction for your life beginning to take shape.
Q: – How do you do a psychic reading? What do I do before your appointment?
A: – How a psychic reading is done depends on the precise type of reading that is requested. However, the first step is collecting information from you. That information is related to your expectations as well as any questions you have. We then walk you through the process of preparing yourself for the reading before we begin.
Q: – If I decide to have a reading can my friend or my family be there, also?
A: – Each new person added to a psychic reading brings with them an entirely new collection of intricacies and energies that must be navigated. This makes sessions with multiple people far more complex and taxing for the psychic reader. While it may be tempting to have others sit in on a psychic reading that you have scheduled, you will receive a clearer and more reliable response from your psychic if you do not include additional people to your reading. We suggest bringing someone on a second session if you desire so. 
Q: – What are your fees for a psychic reading? How much does it cost?
A: – Cloud 9 Guide is based in the United States. As such, all pricing is based in the US dollar. Fees vary depending on the service requested and a quote will be given during your initial free consultation. Standard sessions start at $49 to $99 regularly and more complex healing and energy work from $149 up to $199. Ask Xyla to explain this more clear when you contact to schedule an appointment.
Q: – When will I receive my reading? How does it work?
A: – Depending on how you wish to receive your reading, you may access our psychics at different times. Email support is available 24/7, as are our social media channels. For appointments over the phone, we are available during normal business hours from 9:00 am to 9:00 pm.
You will receive your first reading as soon as you call to schedule an appointment. Xyla will talk to you and explain in detail when you call Cloud 9 Guide to request services.
The way it works is like this. When you first call Xyla will talk to you and you will both agree and understand how and if we can help. Then we schedule the session to a date and time that is convenient. You will receive a confirmation by email, text, or messenger. You will retain Cloud 9 Guide services and pay 2 hours before the session starts. you can always call and rescheduled 2 hours before the session starts. 
Q: – Which intuitive service is right for me?
A: There is no easy answer for that as each person's needs are unique. The first thing that you should do when considering intuitive services is to contact an experienced intuitive and discuss your needs. Through a short discussion, your psychic will suggest one of many possible services.
Q: – Can I change my reading to another kind of reading or to a spell after I have ordered it?
A: – Changing to a different service after settling on one is possible, but there are things to be aware of. First, not all time slots are available for every service type. Also, there are often different pricing structures for services ranging in complexity and other aspects. To change to a different type of service after settling on one, you should contact Cloud 9 Guide and discuss your options.
Q: – Can I change my reading session or cancel?
A: – Yes, of course, you can always reschedule. We just ask kindly that when rescheduling, changing or canceling your session if it's possible so long as the request is made 2 hours before the session or service is scheduled to begin. We prefer 24 hours before but we also understand that life gets in the way sometimes…