Healing with Essential Oils
Healing with Essential Oils – Essential oils are incredibly powerful and can be used in a variety of ways to enhance your overall health and wellbeing. Inside of every plant, there are pure oils that contain the essence of the plant itself. These oils serve many healing roles for the plants they come from, including providing defense, adaptive capabilities, and disease prevention.
What are essential oils? These especially potent plant oils are compounds extracted from plants to capture their essences, fragrances, and overall beneficial properties. There is a variety of health benefits from essential oils, and many people know about their abilities to treat certain health conditions.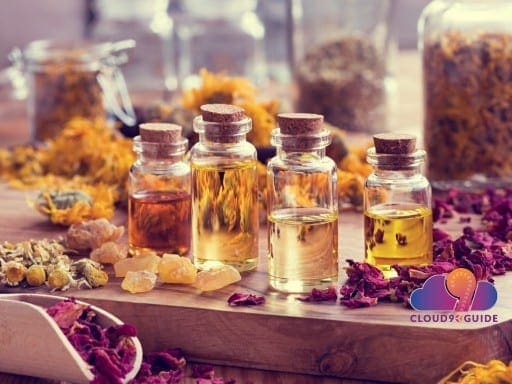 Essential oils are often used for aromatherapy and healing, as a treatment in which healing effects are attributed to unique aromatic compounds.
In nature, these oils not only help the plants survive but they are also the very reason the plants are able to flourish in such harsh conditions.
Using these powerful oils, people can benefit immensely and in a large number of ways.
In fact, research suggests that people can enjoy the same benefits from healing with essential oils, that the plants they come from, do.
Healing with Essential Oils Benefits
When putting together a list to help you tap into the healing properties of essential oils, it is always a good idea to consider the healing solutions essential oils can provide. Some healing oils are best for common health issues like headaches, skin health, and burns, while others assist mental and emotional health.
Healing essential oils for skin is very popular and you'll find many options, including lavender, chamomile, geranium, and neroli. For headaches, options include peppermint oil, rosemary oil, lavender, and chamomile. If you are looking for emotional healing with essential oils, you may want to try basil oil, cedarwood, bergamot, and frankincense.
Essential oils with healing properties aimed at relieving the effects of trauma, stress, anxiety, and many other debilitating conditions can be combined to help you find a state of wellness that you deserve. Contact us today to learn more about how you can tap into the healing power of essential oils.
Here at Cloud 9 Guide, we have many lifetimes of experience healing with essential oils. No matter what you may need, we can help you find the best healing oils possible and explain their properties and health benefits.
Healing with Essential Oils Medicinal Properties