Psychic Chat Readings
Psychic Chat Readings can be beneficial in many ways but not everyone lives in proximity to a psychic who has the skill, experience, and expertise to provide a true and accurate reading. That's where psychic chat readings online come into play.
Psychic chat readings allow people to get answers to the burning questions and gain insight into how events may unfold in the coming days, weeks, months, and years, without ever having to leave the comfort of their home.
In fact, that's one of the psychic chat readings' best attributes, especially for people tied to their computers and telephones for many hours a day. There is no need to stop what you're doing to benefit from a psychic reading.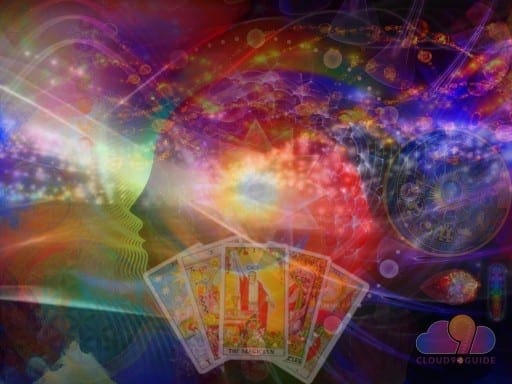 All that's required is a device that connects to the Internet and a trusted psychic chat service like what we offer here at Cloud 9 Guide.
Psychic Chat Readings with Live Chat Intuitive
Before making contact with your online psychic chat intuitive, it's a good idea to have your questions in mind.
Intuitive psychics specialize in a large number of interest areas and we want to be able to connect you with the best possible intuitive to meet your needs.
Psychic chat readings that are available on live chat include the following:
Psychic Chat Readings – provide an overall outlook on your past, present, and future.
Psychic Mediums – provide you with access to a loved one who has departed.
Tarot Readings – an ancient art of awareness, insight, and discovery.
Distant Readings – "remote perception", or "traveling clairvoyance"  is transferred without the reader meeting face-to-face.
Numerology – life Path Number & expression Number – many aspects of a person's life can be understood, interpreted, and predicted.

Astrology

– the changes & relevant positions of heavenly objects as a means for divining learning about human affairs & physical events.

Aura Readings – a human energy field encloses the human body, animals & objects. Psychics involve the light vibration of the observation and interpretation of auras.
Love – is an area that cannot be ignored. An intuitive who is receptive to these vibrations and energies can see what lies ahead and what changes are required.
Akashic Records Readings – an energetic frequency library that runs from the highest realm through our bodies, an inner knowing containing an archive knowledge of all souls throughout existence and their experience and journeys.
Live Readings – in various formats can be done by our psychics through our live chat channels. Are you looking for a Tarot reading? Astrology insights? Whatever it is, we can help.
Angel Communication – is a perfect way to gain spiritual guidance and the insight that a Higher Power can facilitate.
Finance – is an area that both worries and excites. Readings for this category lends useful insight into your financial life.
As you can see, the psychic chat readings services available to you through the chat platform are numerous. We work hard to make sure you get the help and peace of mind you deserve in the most convenient way possible. Contact us today to see how we can help.